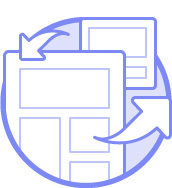 Mobile field mapping, GIS data collection and maintenance with field-to-office workflow.
Carlson introduce the new iX range of rugged Total Stations
The iX Series robotic total stations are a trimmed down, high- performance solution. You get the efficiency of a single-operator robotic system, the power of long range reflectorless measurements, and performance as a hybrid positioning solution.
UltraSonic technology is the driving force for the iX Series. The UltraSonic motors are the thinnest, lightest, and most powerful on the market – providing you with the smoothest and most accurate prism- tracking possible. It's a difference you can see and hear immediately. With a rotation speed of 150° per-second, no matter how fast you move, or how many obstacles are in the way, you cannot outrun the iX.
We supply a wide range of GNSS survey equipment to cover all manner of accuracies and specifications.
Working with a variety of industries including Construction, Land Surveying, GIS, Archaeology, Asset Management and many others we provide complete geospatial positioning solutions from lower spec hand held GNSS to cm accuracy network rovers.
With over 20 years of experience and a dedicated team of enthusiastic and knowledgeable technical staff, we can offer you training and support to fully integrate the correct GNSS solutions into your business at the most competitive prices.
Blog
The latest posts from our blog. Featuring news views and articles from GNSS solutions Ltd
GNSS Solutions (UK) Limited is delighted to announce the arrival of the new Septentrio Altus NR3: a multi-frequency, quad-constellation (GPS, GLONASS, BeiDou and Galileo) RTK receiver for survey and GIS applications. The Altus NR3 features Septentrio's pioneering AIM+...
read more
GNSS Solutions (UK) Limited are exhibiting at this years Geo Business exhibition at the Business Design Centre in London from 23rd to 24th of May. We will be sharing a stand with Carlson Software, we'll have a range of innovative products both hardware and software on...
read more
Main dealer and supplier for the following
Get in touch
For more information please complete our contact form or call us on 01482 651167
GNSS Solutions [UK] LTD
Abacus House
10 Manor Fields
West Ella
East Yorkshire
HU10 7SG
England
Opening Hours
Monday to Saturday: 9:00am to 5:30pm
Sunday: 10:00am to 4:00pm
01482 651167
tim@gnsssolutions.co.uk
www.gnsssolutions.co.uk