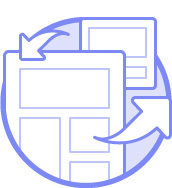 Mobile field mapping, GIS data collection and maintenance with field-to-office workflow.
Juniper systems Geode sub metre GPS/GNSS receiver.
Looking for a simple sub-meter GNSS solution at an affordable price? With the Geode, you can easily collect real-time, sub-meter GNSS data without the huge price tag or complexity of other precision receivers. Designed with versatility in mind, the Geode works with a wide range of Windows®, Windows Mobile, and Android® devices to fit your needs exactly, and is especially useful for bring-your-own-device workplaces. Take the Geode with you mounted on a pole, in a pack, or held in your hand to collect real-time sub-meter GNSS data in harsh environments, using almost any handheld device. The Geode includes, a 10-hour internal battery, Long range Bluetooth, USB port and optional 9pin serial port.
GNSS Equipment Hire
We supply a wide range of GNSS survey equipment to cover all manner of accuracies and specifications.
Working with a variety of industries including Construction, Land Surveying, GIS, Archaeology, Asset Management and many others we provide complete geospatial positioning solutions from lower spec hand held GNSS to cm accuracy network rovers.
With over 20 years of experience and a dedicated team of enthusiastic and knowledgeable technical staff, we can offer you training and support to fully integrate the correct GNSS solutions into your business at the most competitive prices.
Blog
The latest posts from our blog. Featuring news views and articles from GNSS solutions Ltd
GNSS Solutions where contacted by David Mclaughlin of Cowal Survey Service interested in the new Carlson BRx6 RTK GNSS system and new Sokkia iX505 robotic total station. A demonstration was organised for later the same week. David primarily wanted a system that he...
read more
GNSS Solutions (UK) Limited, Carlson's UK reseller are proud to announce the launch of Carlson's new BRx6 multi-constellation GNSS smart antenna. The BRx6 contains a multi-band 372-channel GNSS receiver, world-class Athena© RTK technology and an integrated Atlas©...
read more
Main dealer and supplier for the following
Get in touch
For more information please complete our contact form or call us on 01482 651167
GNSS Solutions [UK] LTD
Abacus House
10 Manor Fields
West Ella
East Yorkshire
HU10 7SG
England
Opening Hours
Monday to Saturday: 9:00am to 5:30pm
Sunday: 10:00am to 4:00pm
01482 651167
tim@gnsssolutions.co.uk
www.gnsssolutions.co.uk